Mauro Sebaste Nebbiolo paired with Asian Slow Cooked Short Ribs
August 14, 2022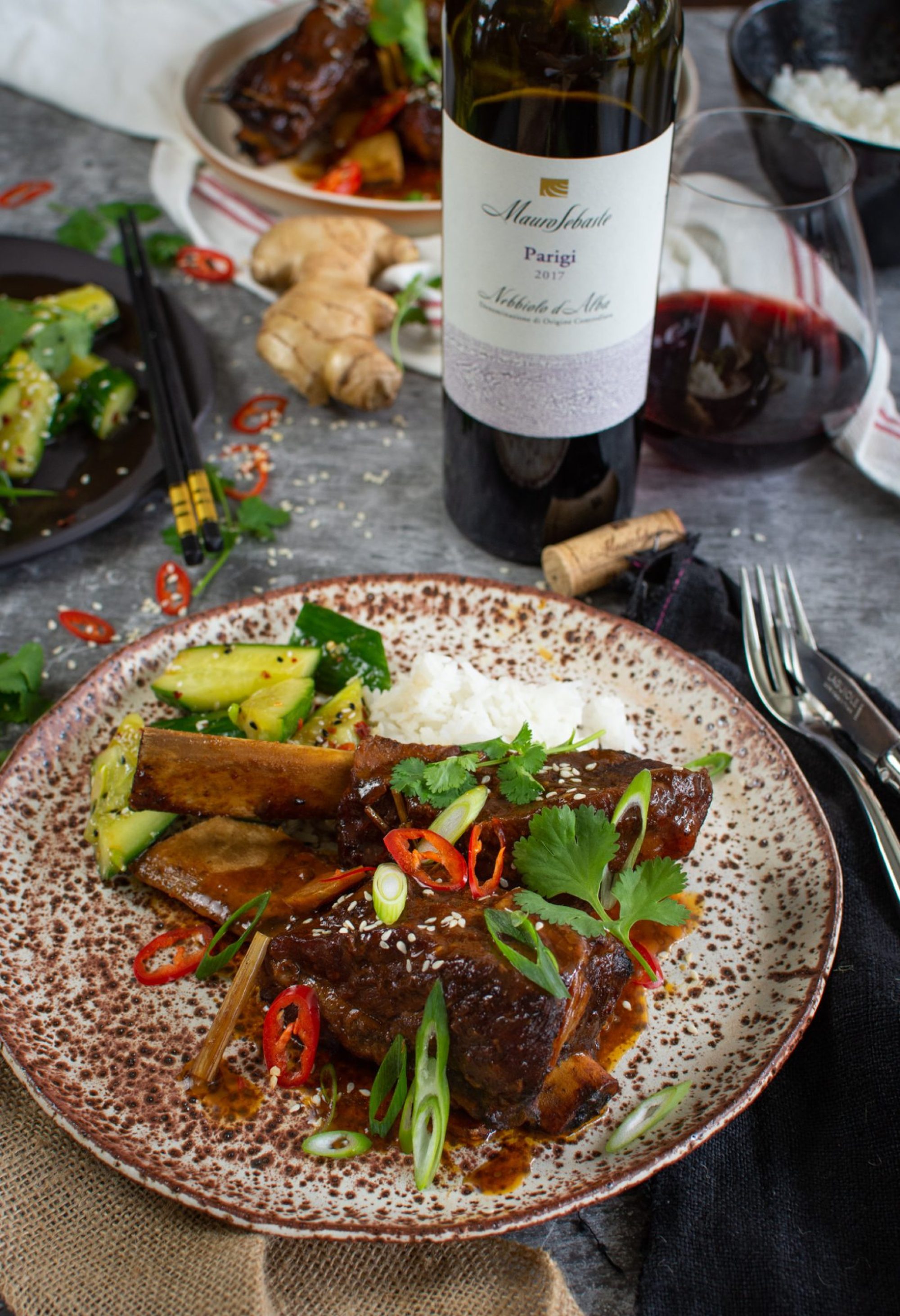 Pairing with Mauro Sebaste Nebbiolo d'Alba.
When you read Gavin Sutherland's profile, you become instantly aware of his passion for food and cooking.
Having grown up in Ireland, he has spent many years in his hometown and abroad in New York City managing hotels and restaurants…….so he is no novice when it comes to the excellent pairing of food and wine.
When we spoke to him earlier in the year, he was excited to cook the perfect meal that would complement the beautiful tones of Mauro Sebaste 2017 Nebbiolo.
And that is what he did.
He chose to prepare Asian Slow Cooked Short Ribs served with steamed rice and a refreshing smashed cucumber salad.
The slight licorice notes, dried fruits, and tar from the Nebbiolo complement the layers of flavour found in the slow-cooked ribs.
Why not try it out?
We have included the recipes below.
And let us know what you think of the pairing.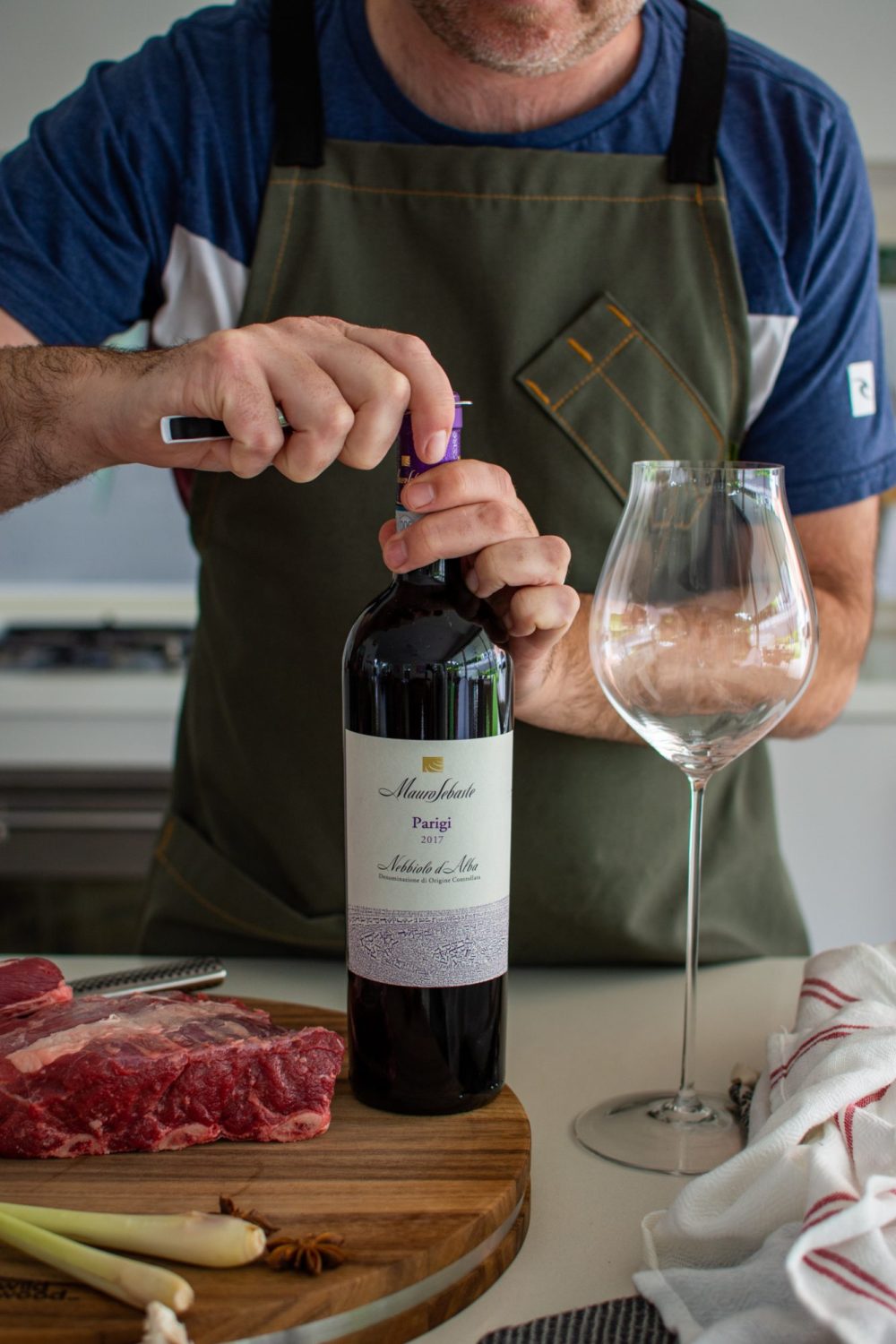 Slow Cooked Asian Short Ribs  – Gavin Sutherland
Serves 4ppl Prep = 10mins Marinate = 2hr+ Cook = 3.5/4hrs
Ingredients 8 x short ribs
Sauce 75ml kecap manis, 2 tbsp gochujang, 4 cloves garlic, 1 star anise, 1 lemongrass, 1 thumb-sized piece of ginger, 400ml water, 75ml Chinese cooking wine
Method
Peel & smash garlic, slice ginger, smash and chop lemongrass
Mix all sauce ingredients together
Place ribs in a baking tray flesh side down and pour sauce over them
Cover and marinade in the fridge for a minimum 2 hours or overnight
Heat oven to 150c and cover ribs with baking paper and tinfoil. Cook for 3-3.5hrs until ribs are fork tender
Increase the heat to 210c, turn ribs over, so they are flesh side up and cook for another 30 minutes – basting every 10mins (this helps get a nice sticky glaze)
If your sauce is too liquidy, then mix 1 tsp cornflour with 1 tbsp water and stir it through; cook for another 10 minutes
Serve with rice and/or smashed cucumber salad.
Essential Tools
Chopping board
Chef knives
Measuring/weighing utensils
Tongs
Spoon
Baking/roasting tray
Tips/Tricks
The longer you marinate them the more flavour the ribs will take on so if you can do it the night before the better 😉
Add more or less gochujang to make it more/less spicy. 2 tbsp for me was the right balance for everyones taste buds
You can cook this dish in advance and reheat in the oven @ 150c for 30-40mins or until ribs are cooked through
Slow cooking is never the same everytime so check your ribs after 2.5 hours and if they need more or less time for them to me melt in your mouth do so at the lower temp of 150c
2017 Sebaste Nebbiolo d'Alba Parigi Trio & Barolo Trèsüri